I got my new car. I bought it on Monday and picked her up last night. She's all shiny and I can't stop staring at her. *sigh*


So... Here is a the stats I can think of and a B-E-A-U-TIFUL peekture of her!

2003 Mitsubishi Lancer OZ Rally
Exterior Color: Yellow with decals
Interior Color: Black mostly some gray/silver touches
Odometer Reading: 45,935
All Power options:
-Windos
-Mirrors
-Cruise
-Door Locks
-Keyless
-Sunroof
Spoiler
Manual Trans (5spd)
CD player with AM/FM

Ok that's enough here she is...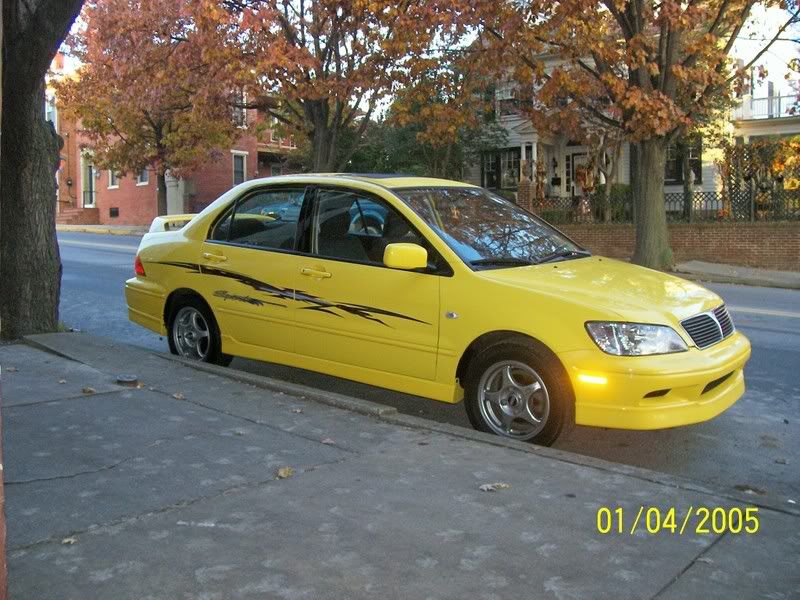 Outside our apartment! Yes the date is wrong on the picture like always.

Only things I am doing/adding to her are:

Window Tint
Fog Lights
Clear Side Markers (on bumper)
17" Rims & Tires
Lowering Springs
Ractive custom exhaust
Intake

*Thought about turning her into an EVO!*


Also may or may not take off the lower decal (hard to see in pic), but it's a red checkered racing flag design and it just doesn't go with the other decals. We'll have to see. Right now I am still in the process of learning 5spd. I still have the Eclipse and I am still trying to sell it. Kerry said I did pretty good for my first time. I just have to remember to hold the clutch in when stopping and not just the brake. I can't wait to be driving her everywhere!

I love my DSM's!!!

x-posted